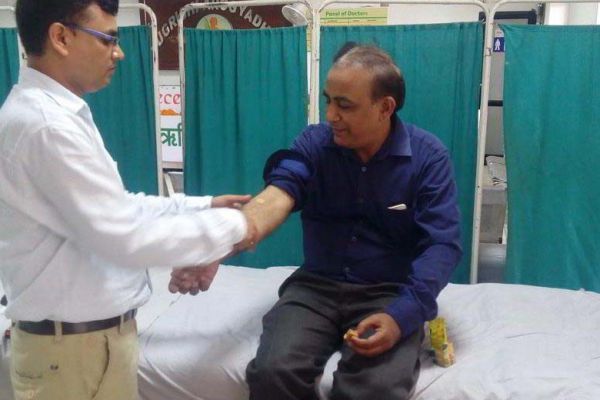 Press Release of Blood Donation Camp
We are pleased to announce that the 72nd Independence Day was celebrated by International Youth Wing on 15th August, 2018 at Karuna Sindhu Hospital, Anand Dham Ashram, New Delhi by organizing a Blood Donation Camp in association with Pitampura Blood Bank, Delhi. This Blood Bank is helping the Thallesemic patients of the Society by providing free unit of Blood. The Blood Donation Camp was inaugurated by Shri Dev Raj Kataria ji, General Secretary of Vishwa Jagriti Mission, Shri Rakesh Ahuja ji, Administrator and Dr. Neeraj Sharma, Medical Superintendent and Shri Rajesh Gambhir of Karuna Sindhu Hospital.
It was a unique opportunity for the donors to donate their blood to save a life. In this camp approx. 100 donors donated their blood. After donating the Blood, the Donors were given refreshment, a Donor's certificate by the Pitampura Blood Bank and Vishwa Jagriti Mission International Youth Wing. Lot of efforts for making this camp a success were put in by Dr. Arun Raghav, Shri Pawan Gaur, Shri Mithilesh and the team of Karuna Sindhu Hospital. A small box of Ayushmaan Choco, a product of Yugrishi Global Healthcare Foundation was also presented to the Donors by the Office Bearers and Volunteers of International Youth Camp. At the time of conclusion of this Camp, a small memento was also offered to the team of Pitampura Blood Bank.
This camp was very much appreciated by Param Pujya Shri Sudhanshuji Maharaj and he also directed the Youth Wing to organize such type of Blood Camps in future also.
Posted 7 months ago by Administrator