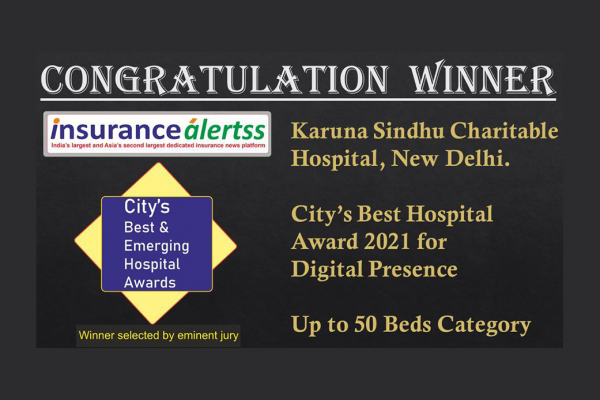 Karuna Sindhu Charitable Hospital recognised as Delhi NCR's best hospital for Digital Presence
Karuna Sindhu Charitable Hospital (KSCH) has received Delhi NCR's Best hospital award 2021 under 50 bed category for Digital Presence. 'Insurance alertss', India's largest and Asia's second largest dedicated news platform, conferred the award.
The award recognizes KSCH's foresight.
In the testing times of COVID-19, patients faced huge problems in contacting hospitals and hospitals also faced the critical challenge of reaching out to the needy. Thankfully, digital technology played a key role when it comes hospital-patient interaction during the 1st wave, 2nd wave and the ongoing covid-19 situation.
KSCH took all efforts for its digital outreach for providing the needy patients with a good customer experience. So when someone needed an urgent eye operation at low cost in Delhi NCR, they took the help of internet and social media and gained the right knowledge about the ophthalmology facilities at KSCH.
Giving the best customer experience is the key idea behind KSCH's increased digital presence. Now it is a matter of delight that the hospital has received the honour for the same under 50 bed category. It inspires everyone at the hospital to work harder now and sustain the top-notch digital environment that promotes timely patient care & support at a low or no cost.
It is just for the vision of HH Sudhanshuji Maharaj and Dr. Archika Didi Ji that KSCH is successfully delivering an amazing customer experience to all patients with the help of its online visibility.
Posted 7 months ago by Administrator